The Ultimate Provider of Crane Trucks Melbourne
Look no further than Ultimate Crane Trucks, if your business finds itself in need of urgent crane truck hire services. We specialise in maintaining and supplying crane trucks Melbourne construction companies have come to rely on. Considering the wide variety of needs that our clients have, our crane trucks are designated to support different functions. These include transportation of construction materials as well as hire companies who need their projects delivered via heavy lifting crane trucks. Among the types of projects we can help with include:
Steel framing and Structures,
Site sheds and containers,
Air conditioning and refrigeration installations, and
Rainwater tank transportation
All sorts of commercial and residential jobs.
Get in touch today to discuss the crane truck that is suitable for your needs, we provide crane trucks Melbourne companies have come to depend on. As a leading transportation provider in Melbourne, we specialise in supplying the urgent logistical transport and heavy lifting needs of Victorian businesses. Different businesses seek our crane truck hire services to supplement their existing fleet or to find a cost-effective means for supporting ongoing projects. Regardless of your needs our team of professionals take your specific job requirements seriously and only recommend the most effective equipment and vehicles to ensure your job is delivered in a safe and reliable manner.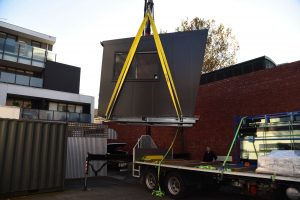 Crane Trucks in Melbourne for All Sorts of Jobs
If you are searching for a crane truck Melbourne businesses have come to rely on then you're in the right place. Ultimate Crane Trucks provides crane truck hire services to support both residential, commercial and Industrial projects. This may take the form of jobs such as:
Trusses and Wall Frames
Generators, Light Towers and Fuel Cells
Construction and Agricultural Machinery
Solar Panels
Steel Roofing
Rain Water Tanks
Hire Equipment
Cost Effective & Efficient Crane Truck Hire Melbourne
Our crane trucks and cranes are regularly serviced to ensure they are safe, reliable and fully compliant. We always ensure the best equipment is available to save you time and to execute your job in the most cost effective and efficient manner. Our crane trucks offer a range of lifting capabilities to cover most client's needs. You can trust that our reputation makes Ultimate Crane Trucks among the leading providers of crane trucks Melbourne businesses continue to depend on. Some types of crane trucks and equipment we can provide include:
Crane Trucks with long reach capabilities
Flat trays, and
Professionals to facilitate your project (i.e. Riggers, Traffic Management).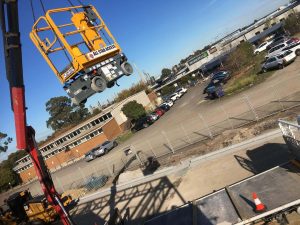 Fencing

Formwork & Scaffolding

Civil Engineering Pits & Precast

Wall and Roof Trusses

Timber

Precast Panels & Modular Walls

Air Conditioners

Structural Steel

Light Poles

Balustrades

Stairs & Lift Shafts

Generators & Light Towers

Agricultural Machinery

Scissors & Hire Equipment

Mesh Bar and Fabrications

Pools & Spas

Rainwater Tanks

Wall and Roof Trusses

Solar Panels and Fuel Cells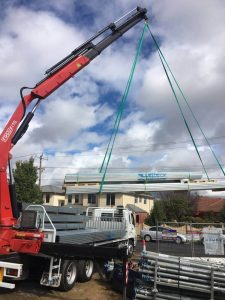 Why Choose Ultimate Crane Trucks?
At Ultimate Crane Trucks, we strive to provide the ultimate hire service when it comes to our clients' need for reliable crane-fitted vehicles. Not only are all our crane trucks fully serviced and compliant but we also have insurances to cover any situation including Marine/Goods in Transit, Comprehensive and Third party as well as Public Liability Insurance to ensure every hired crane truck arrives with your goods risk free.
We understand the importance of providing our clients with the peace of mind that their job will get done efficiently with all on site risks mitigated effectively.  As a result, you can safely rest assured that every specific task will be given the attention and care it deserves guaranteeing a satisfactory outcome. Our team of professionals are always ready to support your need for a dependable crane truck hire in Melbourne:
No job is too big or small,
Crane Trucks for hire across multiple purposes,
Quick response for your project requirements.
Call on Ultimate Crane Trucks to Find the Crane Hire Service You Need
If you need a dependable crane truck hire service in Melbourne then call Ultimate Crane Trucks to find out how we can assist you today. Ultimate Crane Trucks are always ready to provide a dependable crane truck hire service, no matter the type of business or demands of your current project. Call us immediately on 0434 077 418 for an obligation-free consultation, and we'll be more than happy to support your next project.