Efficient Crane Truck Services Melbourne
When it comes to hiring a crane truck for rent construction site delivery or Industrial site support Ultimate Crane Trucks are experienced enough to understand the full scope of your project's needs. We have rigging, lifting and transport equipment capable of supporting a vast range of project needs. Ultimate Crane Trucks are specialists in providing high capacity crane trucks that are certified, serviced and insured and suitable to the task at hand – regardless of the scope.
We supply crane trucks for hire throughout the greater Melbourne area, as well as country Victoria. Whether yours is a residential, commercial or industrial project in a country or metropolitan location we have skilled suitable crane truck operators ready to visit your location. We can provide professional licenced drivers and operators who are experienced at ensuring your job runs smoothly and efficiently. If you've been looking for a crane truck rental service Melbourne business have come to trust, look no further. Among the variety of equipment and vehicles we can provide include:
Crane Trucks with long reach,
Flat tray vehicles,
And a variety of professional support (i.e. Dogmen, Riggers and Electrical Spotters).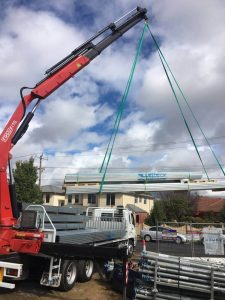 Full Scope of Crane Truck Services Available
Regardless of what your project entails, Ultimate Crane Trucks has worked with a variety of different clients including projects that require:
Lifting of heavy steel frames and structures,
Removal or relocation of sheds and containers,
Installation of equipment such as air conditioning, and
Lifting of assorted machinery.
No matter what the location or specific requirement of your next project you can always count on us to deliver a crane truck service that can accommodate all of your needs. If you've been searching for a crane truck service Melbourne business have come to rely on, look no further than Ultimate Crane Trucks. We provide a crane truck service that always thinks beyond your need for crane truck hire. Whether you will also need reliable Dogmen, Riggers and Electrical Spotters or if you find yourself in need of more than one vehicle for an extended period of time, we are keen to accommodate your every need.
Why Should You Choose Ultimate Crane Trucks ?
Our crane trucks feature an assortment of functionalities, depending on the needs of our clients. We can provide a suitable combination of equipment and vehicles that can provide long-reach and or heavy lifting capabilities. Regardless of what your project demands, our team are always keen to understand your exact needs and deliver a comprehensive crane truck service incorporating a lifting plan that you can rely on:
No job is too big or small for our crane trucks,
We provide free site inspections, and
Can support your project with professional drivers, crane operators, and traffic management personnel.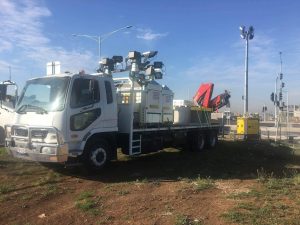 Call on Ultimate Crane Trucks to Find a Professional, Dependable Crane Truck Service That's Right for You.
When it comes to supporting our clients with a reliable crane truck service that takes the heavy lifting out of their work look no further than Ultimate Crane Trucks. No matter the type of work you find yourself involved with, we can supply a range of crane trucks that are suited to meet very specialised conditions and requirements. Just call our team of professionals for an obligation-free discussion on 0434 077 418 so we can best understand your needs, and we'll soon be sending you the right crane truck to help get the job done just the way you need it.