Reliable Truck Mounted Crane Hire in Melbourne
Melbourne is a city that hardly skips a beat, especially when it comes to its rapid development over the past years. Whether in a big or small way, all types of infrastructural development can be seen no matter where in Melbourne you may be located. To support this activity the building and construction industry requires Crane Truck hire services that are competent, reliable, and anticipate your needs first and foremost. Thankfully, our experience in this area allows us to provide crane truck hire services for truck mounted cranes that many of our clients continue to benefit from. We understand that projects of all sizes stand to benefit from keeping a reliable hire service on hand – and this is primarily why Ultimate Crane Trucks is the name to trust when you need vehicle mounted cranes for hire.
If you're looking for vehicle mounted crane truck hire services, we understand that you may well be looking for more than just a serviceable vehicle. We take a comprehensive approach towards understanding our clients' needs, and this often involves being able to anticipate their need for additional services such as:
Certified drivers and crane truck operators,
Riggers and Electrical Spotters, as well as
Finding crane trucks with suitable reach and lifting capacity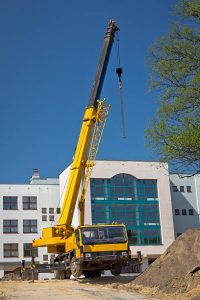 Comprehensive Scope of Vehicle Mounted Crane Truck Hire Services
At Ultimate Crane Trucks, we often keep the professional mindset that no job is ever too big or too small for our crane trucks. Whether you need help with residential or commercial construction, or on a civil engineering project, we can provide you with a highly serviceable and well-maintained fleet of crane trucks that will keep your project cost-effective and on-schedule. We have vehicle mounted cranes with long reach capability which are suitable for jobs that are difficult to access. If you're looking for truck mounted cranes, ours are fit for a variety of purposes and are well-maintained to ensure consistent reliability no matter the type of project you need them for. Our crane trucks are suited to work on jobs that require heavy lifting for items such as:
Trusses and walls frames,
Sheds,
Containers, and
Agricultural/Construction equipment.
As we operate across the wider Melbourne metropolitan area, we are always able to support your need for vehicle mounted crane truck hire, no matter what suburb you are located in. When it comes to finding vehicle mounted crane trucks Melbourne business owners need a quick and reliable service that can dispatch a truck and provide support on a timely basis. We always keep this in mind whenever we get an enquiry for our truck mounted cranes. Regardless, ensuring the serviceability of our fleet is among our top priorities, and we are always ready to comprehensively understand your needs with an obligation-free consultation. If you've been in need of a dependable vehicle mounted crane truck hire service, look no further than Ultimate Crane Trucks.
Call Ultimate Crane Trucks for Absolutely Dependable Crane Truck Hire Services
There isn't a job that's too far out of reach for our crane trucks. We provide vehicle mounted crane trucks Melbourne business owners continue to depend on, and for many good reasons. If you'd like to know more, consider that our friendly operators are always ready to provide an obligation-free consultation when you call us on 0434 077 418. For vehicle mounted crane trucks that you can always count on, remember to call on us: Ultimate Crane Trucks!